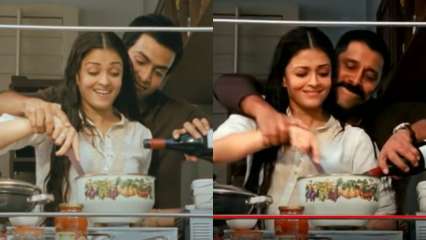 Over the years, several filmmakers have released movies dubbed in different languages. But back in 2010, Nationa Award-winning director Mani Ratnam successfully managed to pull off an experiment when he released Raavanan in Tamil and Raavan in Hindi on the same day. The difference in Mani Ratnam's Raavanan and Raavan from what makers would often do with the films was that instead of dubbing the movie in different languages or giving the audiences subtitles, Ratnam reshot the movie with different actors. While Aishwarya Rai Bachchan played the lead heroine in both versions, actors Vikram and Prithviraj were cast as the male leads in the two films. 
In the Tamil version of the film, while Vikram played the antagonist and Prithviraj played a character inspired by Lord Ram, in the Hindi version, Vikram crossed over to play Prithviraj's character while Abhishek Bachchan played Raavan. Aishwarya, however, played a character based on Sita in both versions.
So to say, Aishwarya was seen romancing Prithiviraj in the Tamil version of the film whereas, in the Hindi version, she was paired opposite Vikram. 
Recently, an Instagram user account has shared a side-by-side edit of Aishwarya recreating her scenes in Raavanan and Raavan. In the clip, she is seen dancing with Vikram and with Prithviraj, effortlessly recreating the scenes and managing to give the exact shot in both versions. 
Fans were elated to see the side-by-side edit of Raavanan and Raavan. While a section of users lauded Aishwarya for her stellar efforts, a user commented, "For the longest time I was hoping someone would make side by side clips of Raavan and Raavanan. The fact that Mani Sir made the entire movie twice and each scene looks so perfectly similar albeit with different actors is truly fascinating to me!"
Take a look at the clip here:
On the work front, Aishwarya and Mani Ratnam are reportedly working together on 'Ponniyin Selvan', a historical epic based on Kalki Krishnamurthy's novel.