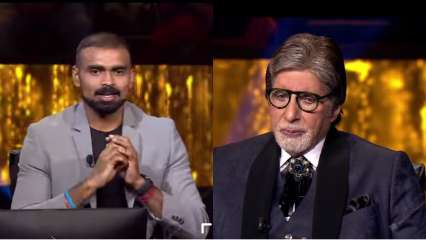 On today's episode of 'Kaun Banega Crorepati 13', Olympic gold medalist Neeraj Chopra, and Indian hockey team goalkeeper P.R. Sreejesh played on the hot seat. The two interacted with Amitabh Bachchan in an episode filled with patriotic sentiments. 
As Big B introduced both the players, he touched their Olympic medals. He also got emotional on watching a video on their win at the Tokyo Olympics and even got their autographs. Sreejesh even played hockey with Big B on the sets. While Sreejesh had come on the show to support Vidya Kerala, an organisation working to provide mobile phones and laptops to underprivileged children, Chopra lined his support for an institute of sports where kids who don't have a lot of utilities could learn to play sports. 
On the show, both the players described their journeys. Sreejesh opened up on the pressure they faced while competing at the Olympics this year. He shared that after losing at the 2012 games, everyone laughed at them when they returned to India. He said people questioned them as if they had committed a crime and the team was made to sit in a corner at functions. 
Later, during the show, Bachchan plays a video of Sreejesh's father where he can be seen celebrating his Olympic 2020 win. On being asked about his relationship with his father, the hockey hero said in Hindi, "The day I was selected at the GV Raja Sports School, my father asked me if I would be able to get a job if I pursue sports. I asked him to let me give it a shot for three years, and I fail, I'll change streams. So I started playing hockey and became a goalkeeper, but goalkeeping is slightly expensive." +
"You have to buy pads, and those cost money. We're basically a farmer family, so we don't have a lot of money. I called my father up and told him that my coach had asked me to buy pads and that I would need money. My father told me he'd see what he can do. He sent the money, and later, while talking to my mother, I got to know that my father had sold the family cow to pay for the equipment. That's a source of income for us."
He quipped that later whenever he felt bad about playing, he thought about that. Sreejesh dedicated his Olympic win to his family.
Meanwhile, Neeraj opened up about his decision to chose Javelin as a sport. He shared he was overweight at the age of 13-14 and his uncle asked him to join sports to lose weight and get fit. "There were a lot of sports at the stadium but I saw my seniors throwing javelin and I liked seeing it go very far and get stuck in the ground and I felt like I wanted to do the same. I tried it and enjoyed it very much," said Neeraj who holds the second spot on the World Athletics Ranking in 2021.
He added, "I never thought of representing India at the Olympics when I took up the sport. I just put in all my energy and hard work and I'm lucky that I got great support and guidance from my family and seniors and today, I've won Gold for my country."
Neeraj also taught Big B a few sentences of Haryanvi who in turn asked him to repeat a few words of poetry in his language.