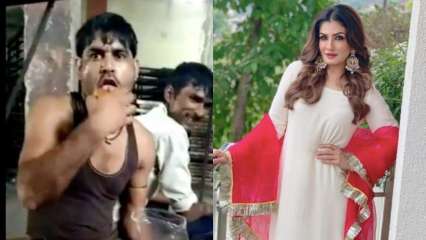 A viral video from a rusk factory unit has been viral on social media inciting the anger in thousands of netizens. Actor Raveena Tandon has now shared the video on her Instagram and vented her ire at unhygienic practices at a rusk-making unit.
Once you see this video, you will never eat toast in your life. The viral video shows workers at the factory or bakery purportedly using their dirty feet to shove rows of rusks kept on a tray on the floor. In the clip, one worker is also seen licking the rusks before putting them into packets.
Tandon shared the clip on her Instagram story with the caption, "Hope they get caught and are behind bars forever."
Have a look at the viral video here:
It is clear seeing in the video that the factory worker did such a thing deliberately. Since the video went viral on social media, netizens are filled with anger and rage against the factory and its workers. 
"My trust issues dive lower," wrote a user while another commented, "Che kya karta h log kaisa jahil log h ye.. shrm nai aata . Kya log h. Isko sab ko jail main dal dena chaiye." A third user wrote, "Kam se kam khaane ki to ijjat karo," while a fourth one quipped, "I will never purchase any baked stuff from Indian groceries anymore…I am disgusted."
It is unclear as to when the video was shot and what is the location of the factory. More details are awaited.